Climbing Walls Unlimited is run by Pete Hill WMCI, FRGS.
Pete holds the Winter Mountaineering and Climbing Instructor (WMCI) qualification, the highest UK award for rock and mountain sports, holds an IRATA (International Rope Access Trade Association) qualification and is a Fellow of the Royal Geographical Society. He has written six books about climbing and has been published in a number of languages. He is also an Associate Member of the Association of British Climbing Walls and holds a variety of other relevant climbing-related qualifications. As well as years of experience, Pete gained a TEC in Engineering at college, a background which has held him in good stead when carrying out wall inspections, and has completed a number of other climbing related courses including Anchor Placement, Load Testing, PPE checks etc.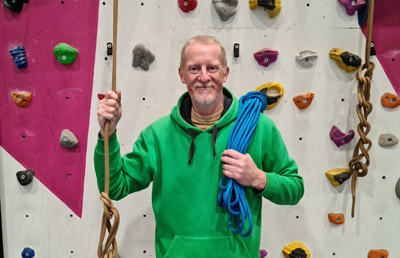 He has been involved with climbing walls for many years and delivers the CWI and CWDI qualification courses on behalf of Mountain Training Scotland. He also delivers a number of high-level rock and mountain-sport awards and qualification courses via his business which can be seen here. Pete is one of only 5 UK Route Setting Association Level 2 accredited setting trainers/assessors and is a member of the RSA Committee.
Pete has also been involved with drytooling for many years, both as a competitor and as an organiser of tooling events and competitions. He was the joint coordinator for the very successful Scottish Tooling Series as well as head umpire. His best competitive result was winning the Scottish Mixed Masters competition. Since setting up drytoolingUK in 2008, which is the only UK company dedicated to drytooling events and competitions, he has been running events all over the UK as well as giving advice for a number taking place overseas.
All staff working with us will be highly qualified, experienced and technically competent in what they do. We only work with a small number of core staff members whom we know personally, and this ensures that the very high standards for which we are well known are maintained.