CLIMBING WALL INSPECTIONS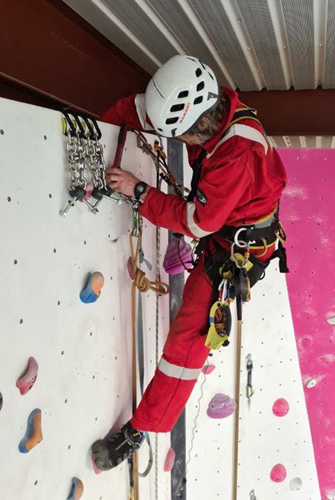 We are able to offer a full wall inspection service, most usually on an annual basis but also as an as-required service. The inspection consists of some or all of the following:
Front of wall inspection – Back of wall inspection – Quickdraw checks
Lower-off checks – Intermediate anchor bolt placements
Ground anchor checks – Matting and shock absorbing surface state check
In-situ bottom-rope state check – Auto-belay operation
Hire equipment checks where required.
We can also carry out climbing wall element replacements, such as quickdraws and lower-offs.
We are fully insured, hold a number of appropriate qualifications (IRATA, RSA, LYON ANCHOR PLACEMENT etc), have an engineering background and many years of experience working at, adapting, servicing and inspecting climbing walls. We are also ABC Associate members.
Please feel free to email us for further details. Alternatively, use the contact form