ROUTE SETTING DEVELOPMENT (RSD)
 Pete is one of a small number of accredited RSD trainers in the UK, and as such is able to run courses which will give attendees the highest possible quality of training as well as enabling them to obtain the RSD Roped Setter Level 1 Qualification. This course is also suitable for those who will be a designated in-house route setter as well as for those responsible for safety cover of others whilst they work.
Valid for three years, this is seen as being the benchmark course across the UK as well as many countries abroad and the qualification is transferable between many climbing centres and venues. Topics covered include equipment, Work at Height regulations, LOLER, PUWER, rigging, movement in ascent and descent, bag hauling systems, companion rescues, lanyard usage, work positioning, exclusion zones, PPE checks plus lots more. This course combines some theory with plenty of practical activity and lots of movement on ropes, along with the practical removing and setting of routes. The two-day training course is to be followed by a one-day assessment course in order to gain the qualification. The assessment course is also appropriate as a revalidation for current route setter qualification holders.
Prices given for upcoming venues are as listed below.
Includes full course, instruction, specialised equipment and RSD manual.
This course is approved for 1 MTA or 2 AMI CPD points.
UPCOMING COURSE DATES 2022
Perth Climbing Wall
Training:
26-27 September. £220.
28-29 November. £220.
Assessment: 30 November. £125.
Sunderland Climbing Wall
Training: 14-15 November. £250.
Assessment: 16 November: £150.
Swindon Climbing Wall
Training: 18-19 November. £275.
Assessment: 20 November: £150.
We are able to offer dates other than those above. please drop us an email to discuss requirements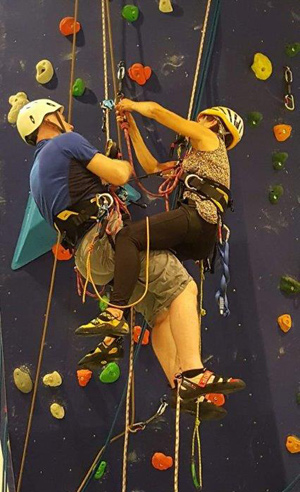 RSA RE-VALIDATION COURSES
The RSA Roped Setter qualification is valid for three years. Prior to this time elapsing, you need to attend a one-day revalidation course. Currently we are running these courses on a dates-to-suit basis, so please drop us an email should you wish to book onto one.
Note that if you have gained a qualification in a similar discipline, such as IRATA or an international setting course, this may also revalidate your qualification. Confirmation of this validity is via the RSA office: alternatively, drop me an email and I'll be happy to advise.